Trap

EP by Henry
Released:
June 7, 2013 (Korean Version)
August 14, 2013 (Chinese Version)
Recorded:
2013 at S.M. Studios, Seoul, South Korea.
Genre:
R&B, Pop, Electro house
Language:
Korean, English, Mandarin
Length:
28:33
Label:
S.M. Entertainment, KT Music
Producer:
Lee Soo-Man (exec.)
Henry chronology
previous
N/A
next
Fantastic
(2014)
Trap is the debut solo EP of Chinese-Canadian artist and Super Junior-M member Henry.
Currently, there are two songs from the album included in Superstar SMTown.
Tracklist
※ Bold track titles means the track is currently playable.
"Trap"
"1-4-3 (I Love You)"
"My Everything"
"Ready 2 Love"
"Holiday"
"I Would" (English)
"Trap" (feat. Kyuhyun of Super Junior)
"Trap" (feat. Taemin of SHINee)

Superstar SMTOWN Group Theme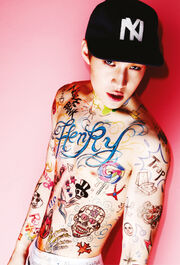 Trap can be chosen as a solo artist theme for Henry.
The icons for his cards are taken from the Trap photoshoot.