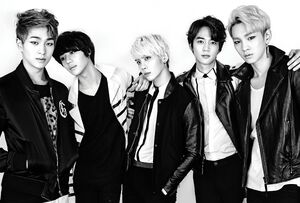 SHINee (Korean: 샤이니 ; Japanese: シャイニー; stylized as SHINee) is a South Korean contemporary boy group formed by S.M. Entertainment in 2008. The group consists of Onew, Jonghyun, Key, Minho, and Taemin. They made their debut on May 25, 2008 on SBS's Inkigayo with their single, "Replay".
Since their debut, SHINee has released seven full-length albums (four in Korean language and three in Japanese language), five mini-albums, three live album and various Japanese singles as well as Japanese remakes of their Korean releases. They have also won many awards, held three concert tours and starred in their own reality shows. SHINee is considered to be a fashion icon having started the "SHINee Trend"and are known for their highly synchronized and complex dancing.
They made their Japanese debut on June 22, 2011 by releasing a Japanese version of their single, Replay, and sold over 91,000 copies making it the highest number of sales recorded by Oricon for a South Korean group at the time, followed by their first Japanese studio album, The First on December 7, 2011. Their second Japanese album, Boys Meet U, was released on June 26, 2013. Followed by their third Japanese language studio album I'm Your Boy, released on September 24, 2014.
Members
Onew
Jonghyun
Key
Minho
Taemin
History
2008: Debut & The Shinee World
On May 22, 2008, the group's first mini-album, Replay was released from the label company, SM Entertainment. Their first album was released on August 29, 2008 called, "The SHINee World". The repackaged version of, "The SHINee World" was released on October 24, 2008 called, "AMIGO".
2009-2010: Rising popularity and Lucifer
In early February 2009, SHINee won "Best Newcomer" award along with Davichi and Mighty Mouth at the 18th Seoul Music Awards.
Discography
Albums
Album
Info

The 1st Album

August 29, 2008

The 2nd Abum

July 19, 2010

The 3rd Album

February 19, 2013

The 3rd Album

April 26, 2013

The 4th Album

May 18, 2015
Repackage
Album
Info

The 1st Album Repackage

October 29, 2008

The 2nd Album Repackage

October 1, 2010

The 3rd Album Repackage

August 8, 2013

The 4th Album Repackage

August 3, 2015
Mini Album
Album
Info

The 1st Mini Album

May 22, 2008

File:Romeo.png

The 2nd Mini Album

May 25, 2009

The 3rd Mini Album

October 22, 2009

The 4th Mini Album

March 21, 2012

The 5th Mini Album

October 14, 2013
Concert Tours
Filmography
Awards and Nominations
Playable songs in Superstar SMTOWN
A total of 27 playable songs.