I Got a Boy

Studio Album by Girls' Generation
Released:
January 1, 2013
Recorded:
2008, August - December 2012
Genre:
K-pop
Language:
Korean
Length:
35:34
Label:
S.M. Entertainment, KT Music
Producer:
Lee Soo Man (executive), Yoo Young-jin, Steve Booker, Stereotypes, Will Simms, Kenzie, Charlie Mason, Mitch Hansen, Joseph Belmaati, Park Chang-hyun, Trinity, Victoria Horn, Hyuk Shin, Jordan Kyle
Girls' Generation chronology
previous
The Boys
(2011)
next
Mr. Mr.
(2014)
I Got a Boy is the fourth Korean studio album by the South Korean girl group, Girls' Generation.
Currently, there is one song from the album that has been included in Superstar SMTOWN.
Tracklist
※ Bold track title means the track is playable.
"I Got a Boy"
"Dancing Queen"
"Baby Maybe"
"말해봐 (Talk Talk)"
"Promise"
"Express 999"
"유리아이 (Lost in Love)" (Taeyeon and Tiffany duet)
"Look at Me"
"XYZ"
"낭만길 (Romantic St.)"

Superstar SMTOWN Group Theme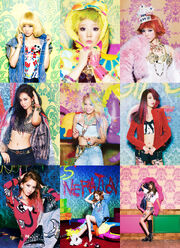 I Got a Boy can be chosen as a group theme for Girls' Generation.
The icons for each member's card is taken from the I Got a Boy photoshoot of each member.